After creating an assessment, you'll want to start inviting teams or individuals to complete it. There's a couple of ways you can go about the invitation process and we'll cover them below. 

Check out the video, or keep scrolling to read the article for help inviting developers to an assessment.


Note: Only a Company Administrator or a Team Manager can invite developers to an assessment.
Pre-requisites:
An assessment must be created, please see How to create an Assessment for more details.
Step 1 
Click Assessments on the top menu to view all assessments. Select the Assessment that you wish to invite your team to complete.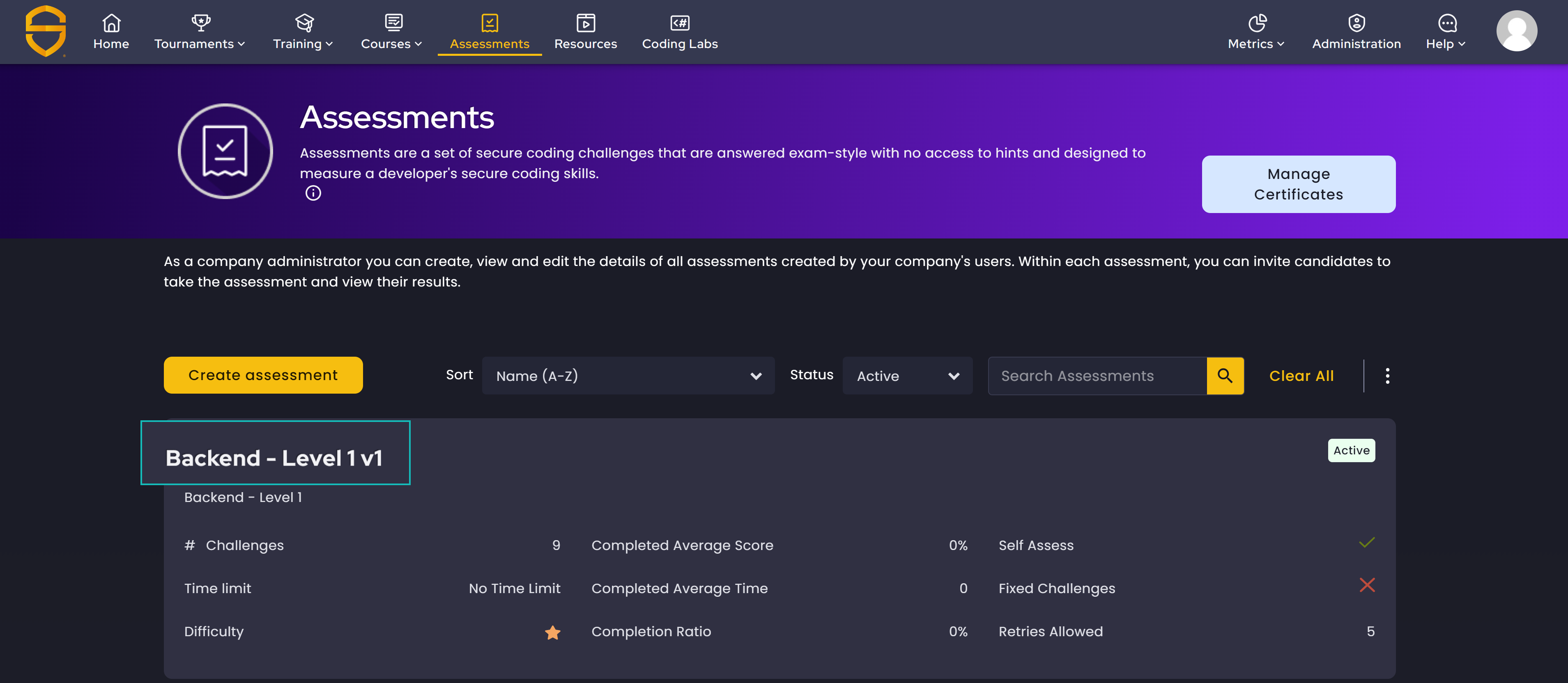 Step 2 
Click +Invite Participants to open the Developers invitation panel or click the 🔽to select between Team invitation panel or Organisation invitation panel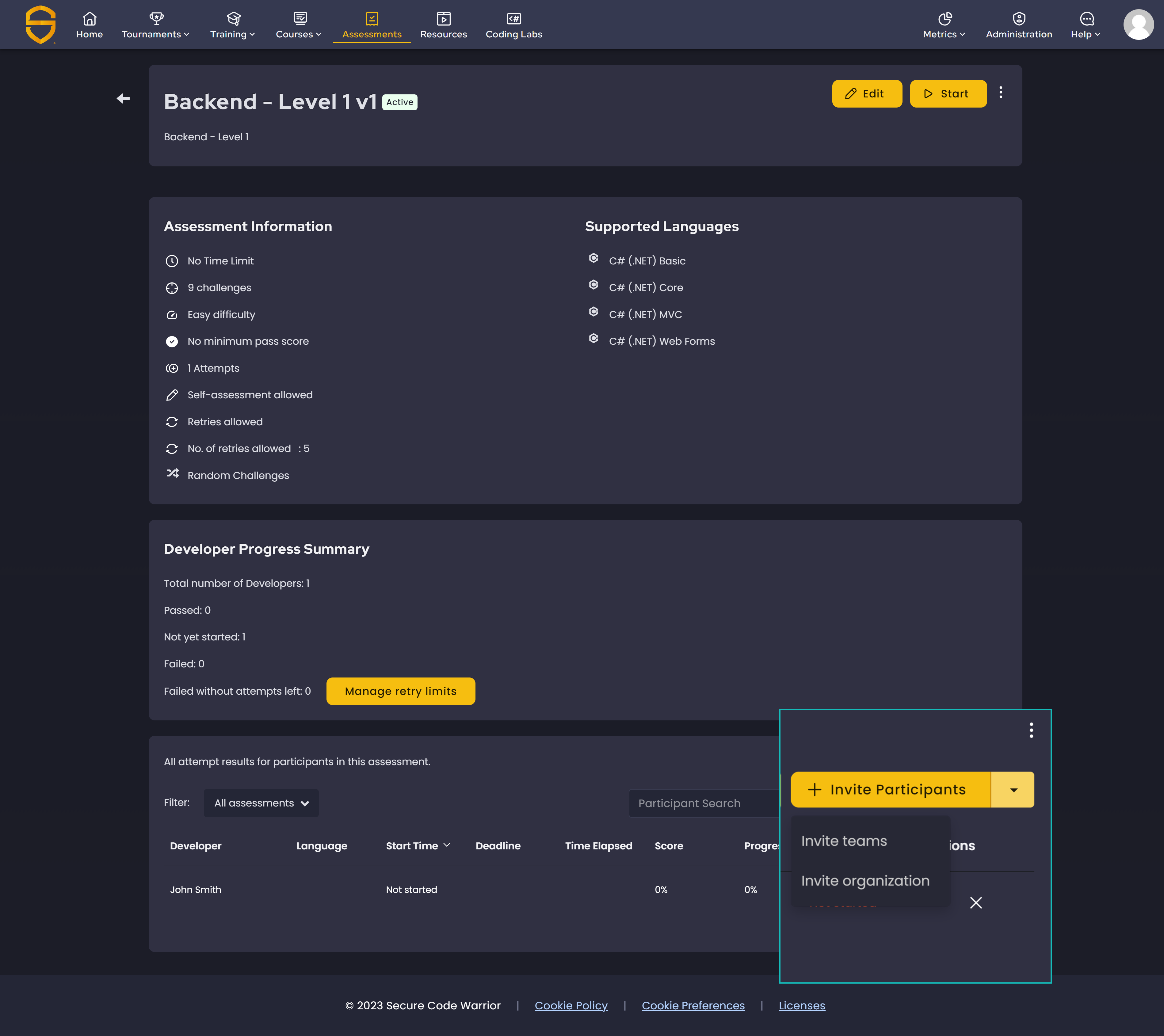 Step 3
From the developer invitation panel, you can invite individual developers or upload a.TXT list. The Team invitation panel will let you invite an entire team while the Organization invitation panel will let you invite the entire organization.
Invite Individual Participants:
We'll start by going over inviting participants using the search function. This method is useful if you've created an assessment intended for individuals or smaller groups.
From here you can search for participants by first name, last name, tags or email address. Just type it in and hit enter/return. This will give you a list of suggested humans based on your user list. 
Click on your chosen participant and try searching for other names.
Tip: You can also type in an external email address to invite a participant that's not within your organization. You might find this useful for assessing a prospective candidate for your team.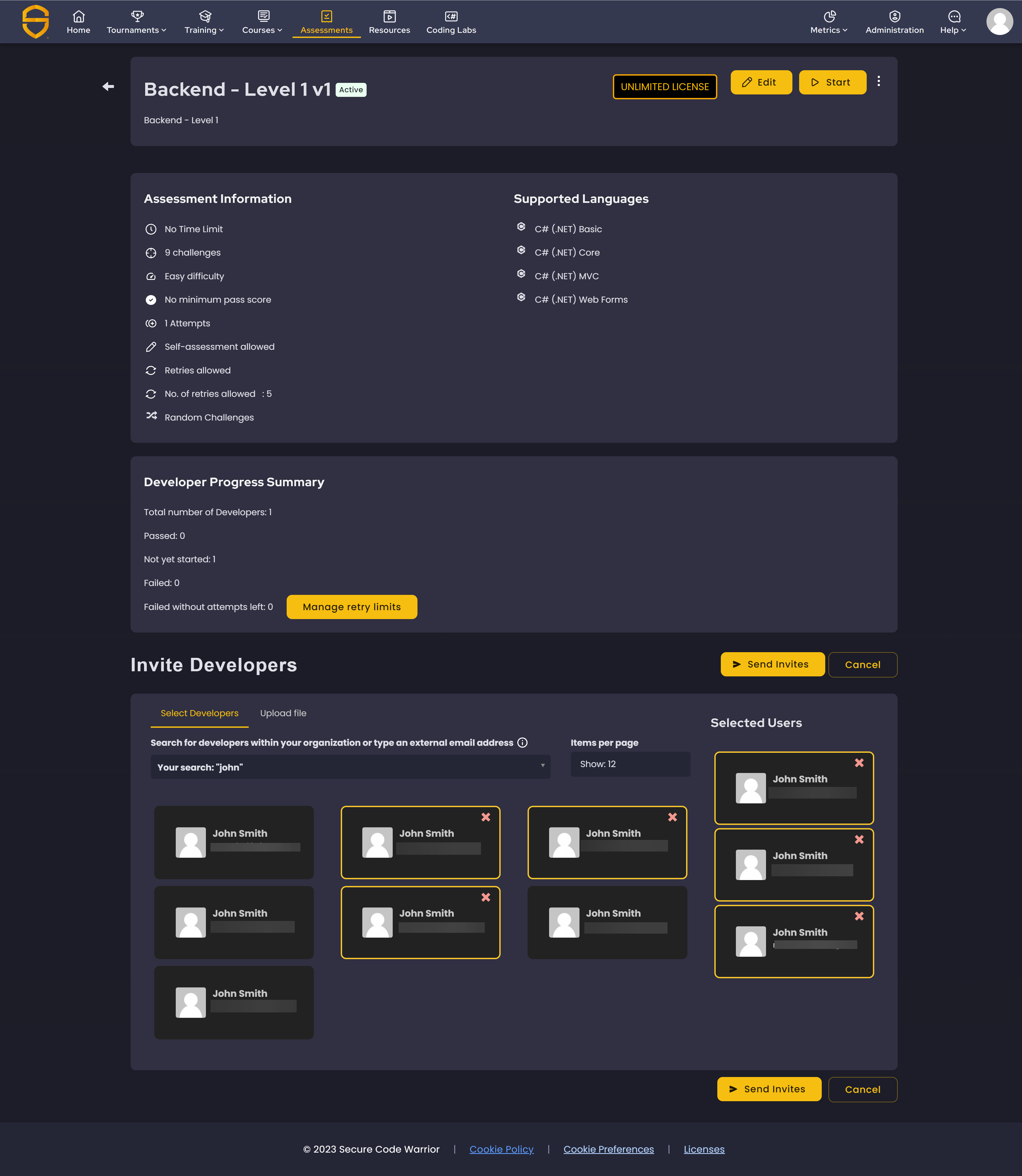 Invite Participants in Bulk:
Upon clicking the Invite Participants button, you'll see the following screen
From here, you can click Upload file and select a plain .TXT file with a list of the email addresses you'd like to invite in bulk.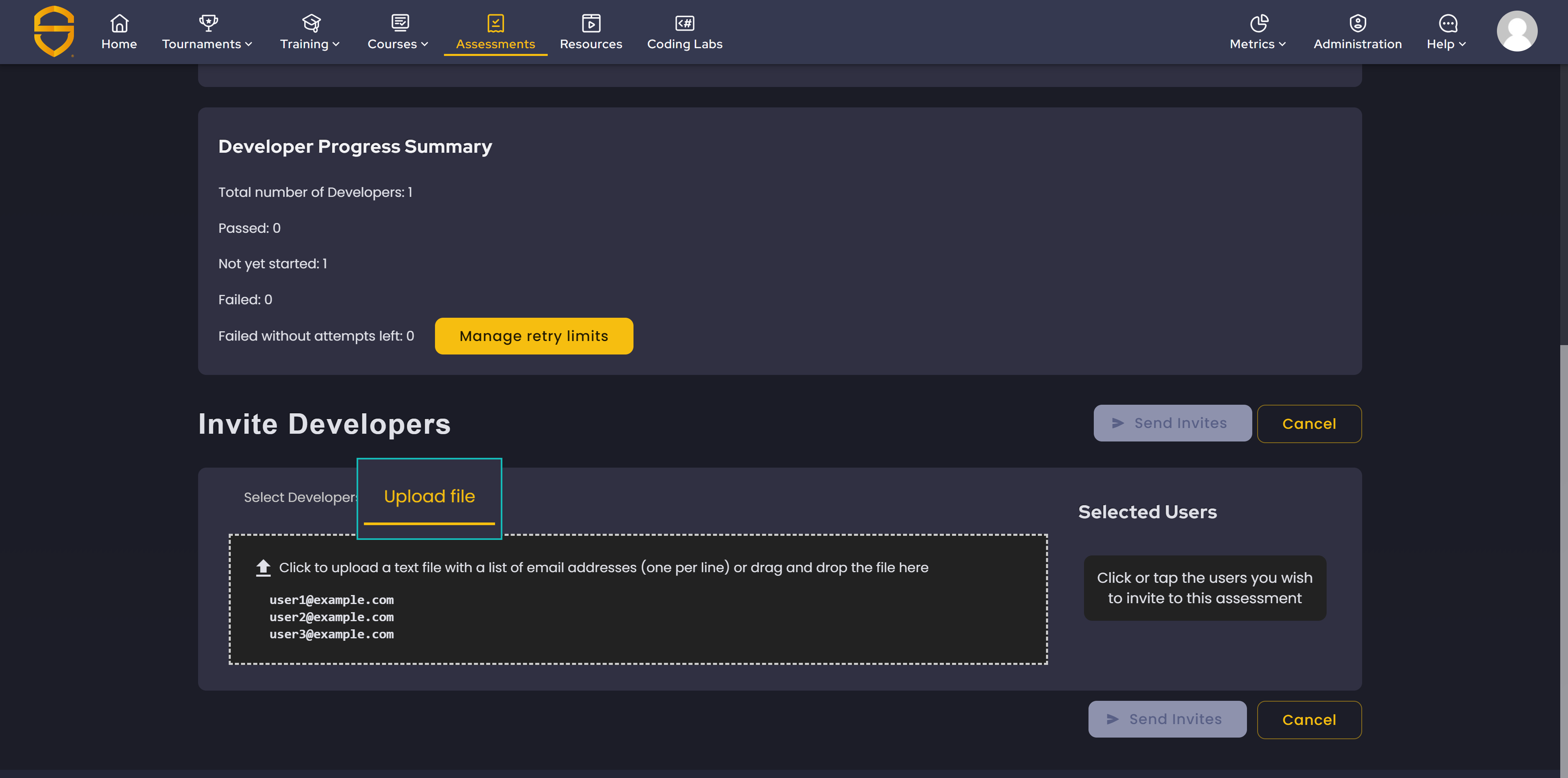 The .TXT file email list should look like this: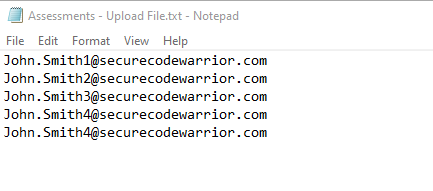 A list of participants will start building up in a column on the right side of your screen.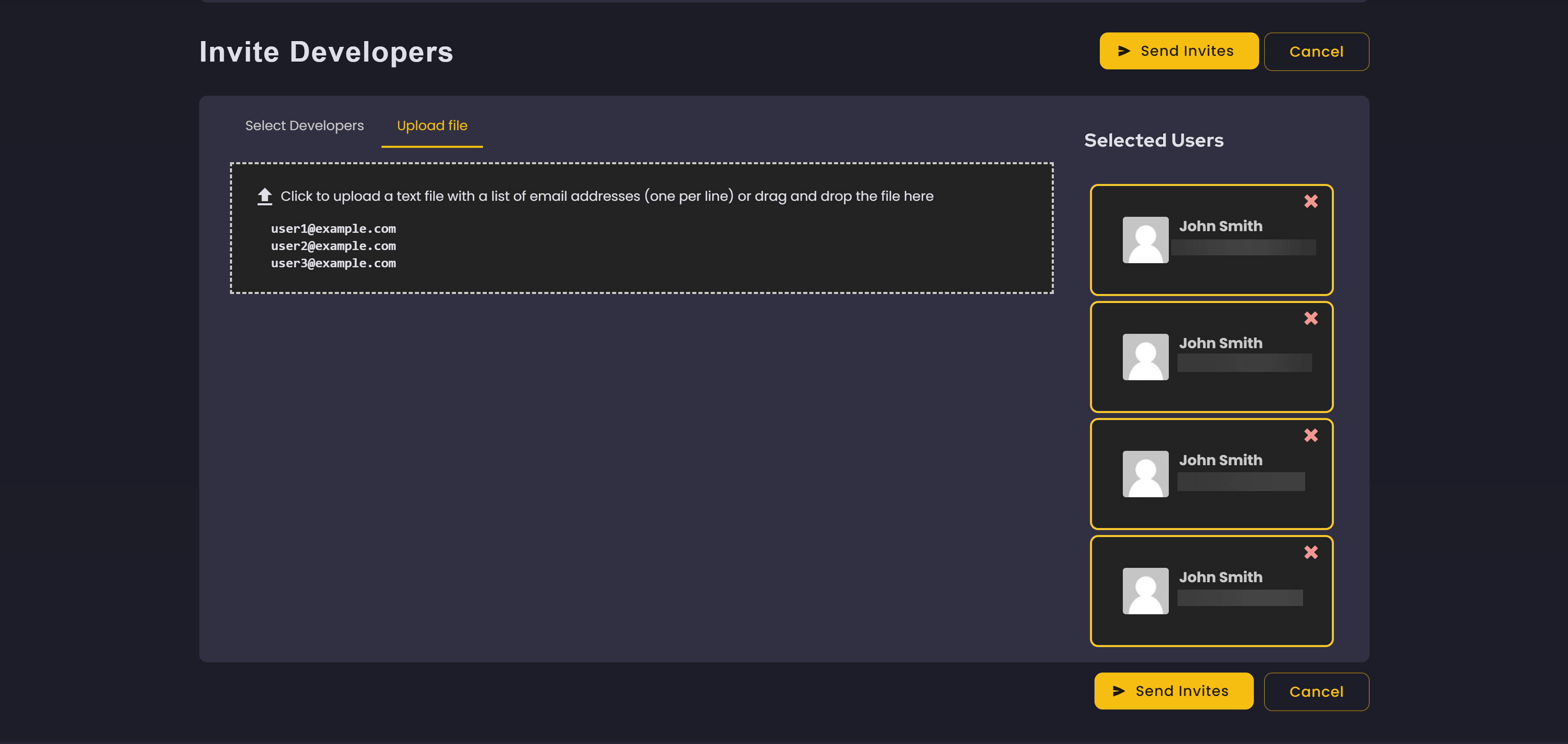 Invite Teams or Everyone:
You can also invite participants by their team names or even the whole organization. 
Go back to your chosen assessment information page. (If you've already clicked on Invite Participants just hit Cancel to back out of there.)

Next to the Invite Participants button is a little arrow.  If you click on that arrow, you'll see the following options
Invite Teams

Invite Organization (This option is available only for Company Administrators)

Selecting Invite Teams will reveal a list of all the teams you entered in your Secure Code Warrior® account.
Note: Developers can be invited to do more than one assessment at the same time, which is useful if they code in more than one language. If this is the case, make sure you build in enough time for them to complete the assessments by the intended date. 
Step 4
Once you've chosen all the teams or individuals you'd like to invite to an assessment, click Send Invites and boom, assessments for everyone!
Next Steps