Automatic Assignment helps make it easier to manage agile teams within your secure code awareness program by automatically assigning the whole company, team, or even individuals to a particular course.
If this option is enabled, automatic assignment will make the course available for any new member added to a group, unless the course has already expired.


Note: A group is a collection of individuals, a team, or the entire organization.

To enable Automatic Assignment simply navigate to the 'manage participants' screen and toggle it on, you have 3 options to choose from:
All company members: Invite all current and future users to the course.
Selected teams only: Invite all current and future members of the selected team(s) to the course.
Selected tags only: Invite all current and future users with the selected tag(s) to the course. This option is very useful if you want to auto-invite users across different teams to the course.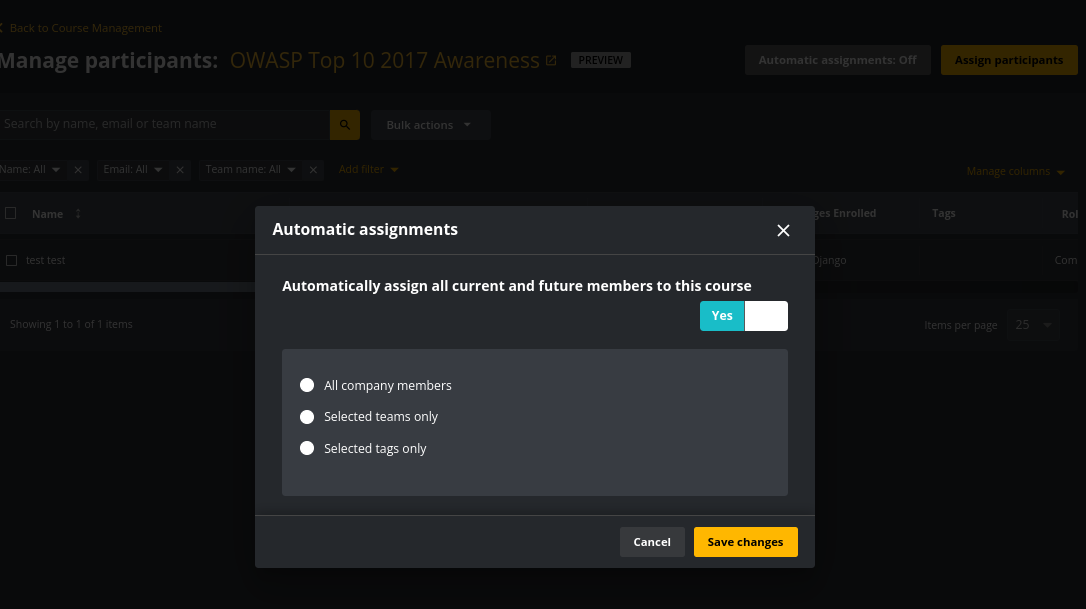 Note:
Participants must be added to the platform as part of your organization, either through
API
,
bulk import
, or
manual upload.
Users with
'invited'
status won't be invited to the course even if auto-assignment is enabled. They will receive the invitation as soon as they activate their account.


Related Links: