Courses modules are made up of learning resources and language-specific coding challenges that allow you to build secure coding awareness and competency right into your overall cybersecurity program.
Each course can be created to address your organization's specific training or vulnerability requirements, allowing you to build repeatable learning pathways for development teams.
This article describes the steps a Company Administrator or Team Manager can take to create and publish a course.
NOTE: Only Company Administrators and Team Managers can create a course.
Step 1
Open Courses from the top menu and select Course Management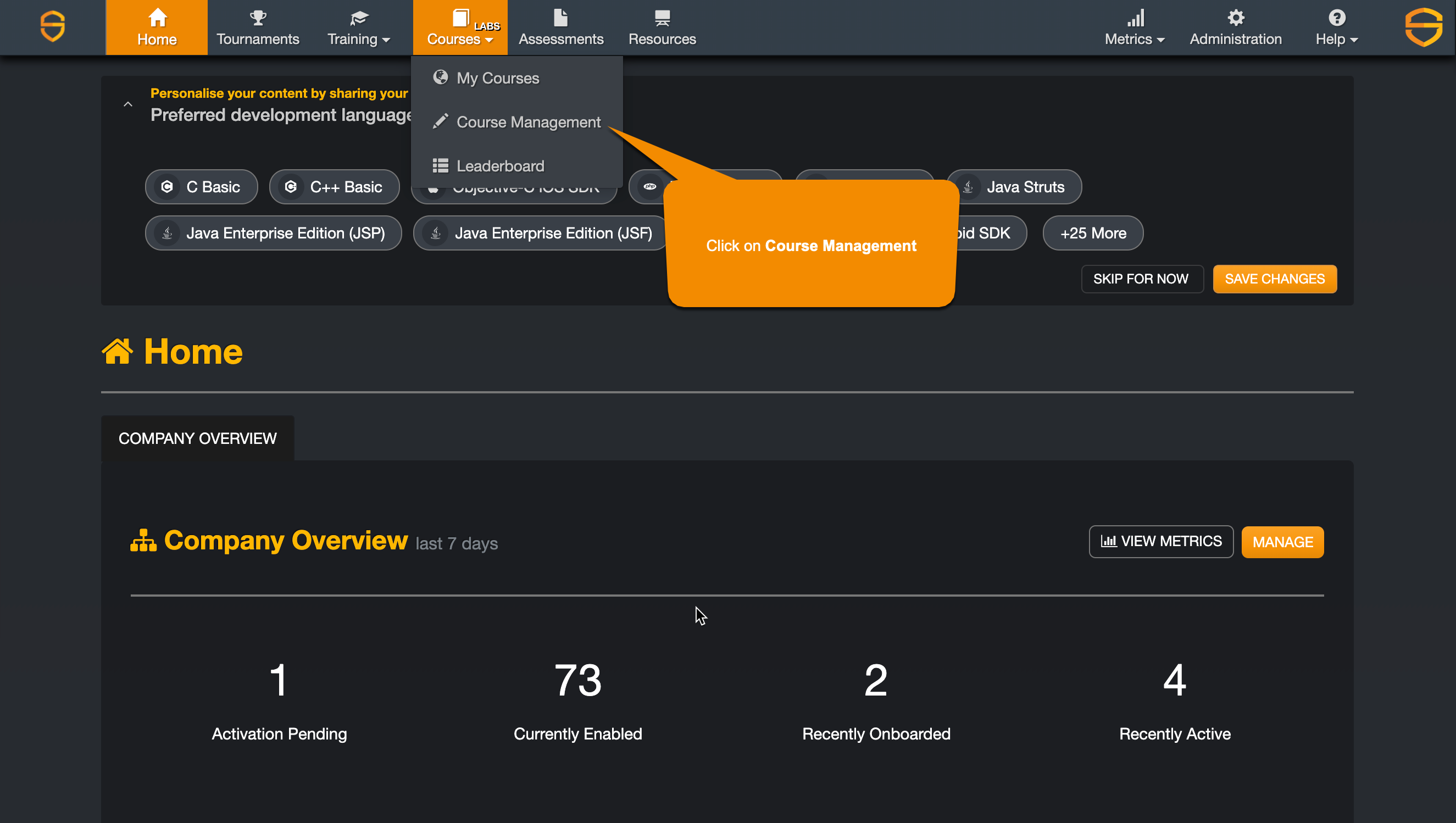 Step 2
Select Add Course to start the course creation wizard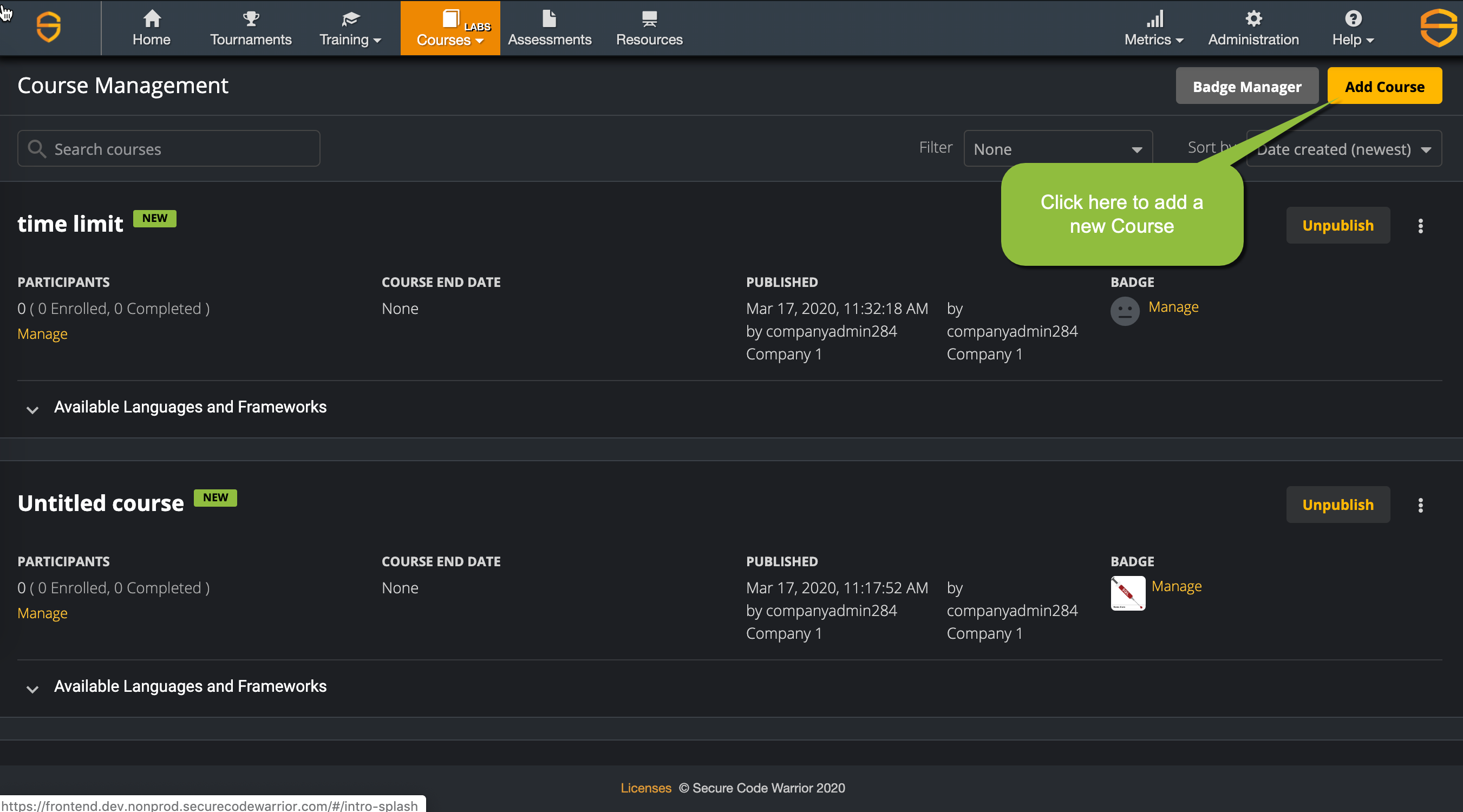 Step 3
The Course creation wizard will guide you through configuration, starting with selecting the focus of the course, depending upon your requirements.
You have the ability to build your Course using an existing template, or you can start from scratch.
TIP: Build multi-language Courses using the Target Specific Vulnerabilities, OWASP Top 10 Awareness, and Custom options to combine languages:frameworks and save time.

1) Build your course using one of the existing templates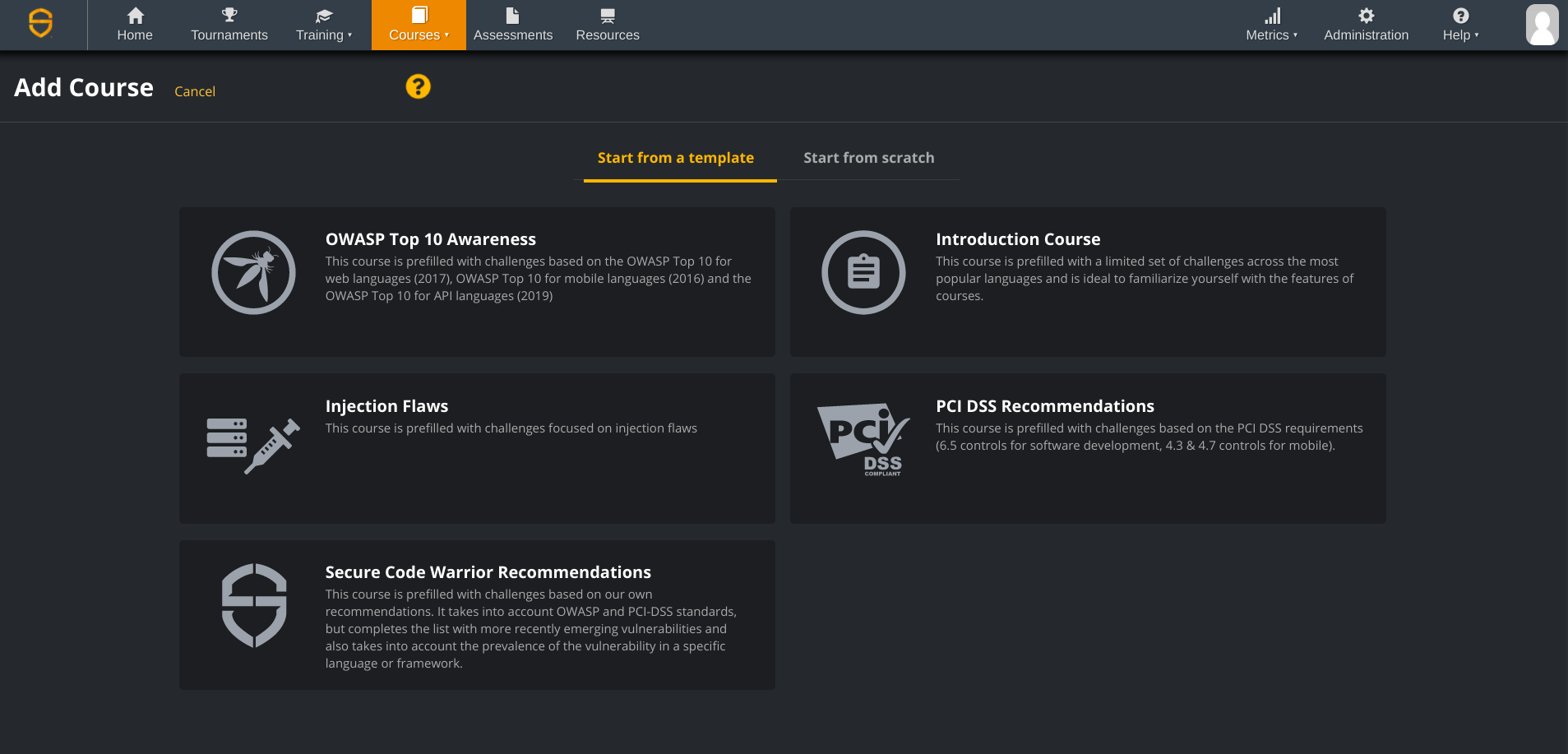 OWASP Top 10 Awareness

- Contains pre-configured templates that cover OWASP Top 10 categories including;



A1-Injection, A2-Broken Authentication, A3-Sensitive Data Storage, A4-XML External Entities, A5-Broken Authentication Control, A6-Security Misconfiguration, A7-Cross-Site Scripting, A8-Insecure Deserialization, A9-Using Components with Known Vulnerabilities, and A10-Insufficient Logging & Monitoring.


Train developers at least annually in up-to-date secure coding techniques, including how to avoid common coding vulnerabilities



Develop applications based on secure coding guidelines



Injection Flaws
- This is a deeper dive into many different types of Injection vulnerabilities like SQL, NoSQL, OS Command Injection, and Code injection

Introduction Course - This course is prefilled with a limited set of challenges across the most popular languages and is ideal to familiarize yourself with the features of courses.


PCI DSS Recommendations - This course is prefilled with challenges based on the PCI DSS requirements (6.5 controls for software development, 4.3 & 4.7 controls for mobile).


Secure Code Warrior Recommendations - Build a course with challenges based on our own recommendations. It takes into account OWASP and PCI-DSS standards but completes the list with more recently emerging vulnerabilities and also takes into account the prevalence of the vulnerability in a specific language or framework.

2) Build your Course from scratch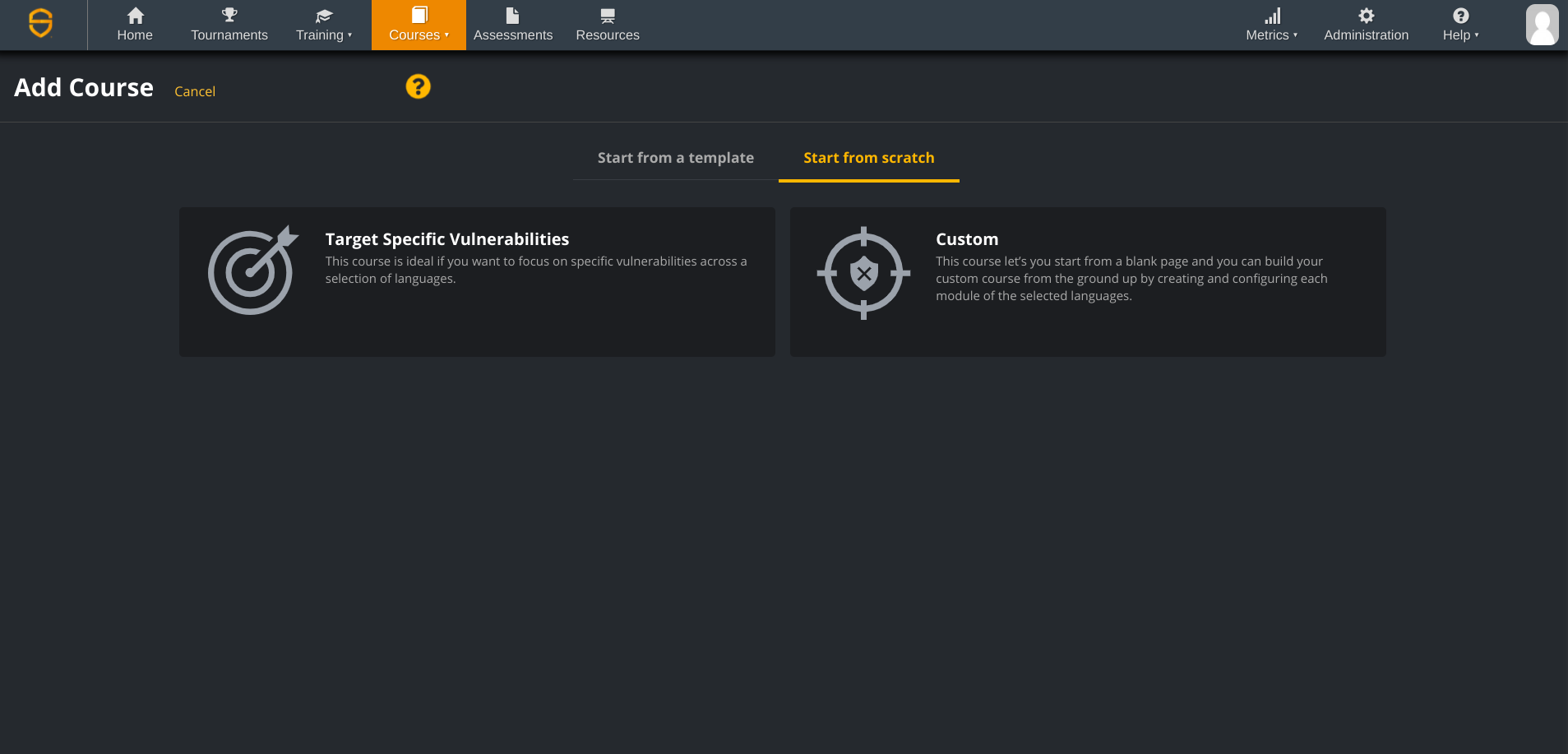 Target Specific Vulnerabilities

- This allows the creation of a course that addresses specific vulnerabilities. If you choose this option, the platform will set up predefined modules for listed vulnerabilities




Custom

- Build a course from scratch with full control over videos, challenges, difficulty, and hints available on the platform for the selected programming language:framework. Learn more about

creating your own course modules



Step 4
Once you've chosen your focus, remove any language:frameworks that aren't required for your course.
Then click Proceed to: Course Content to review and/or edit course modules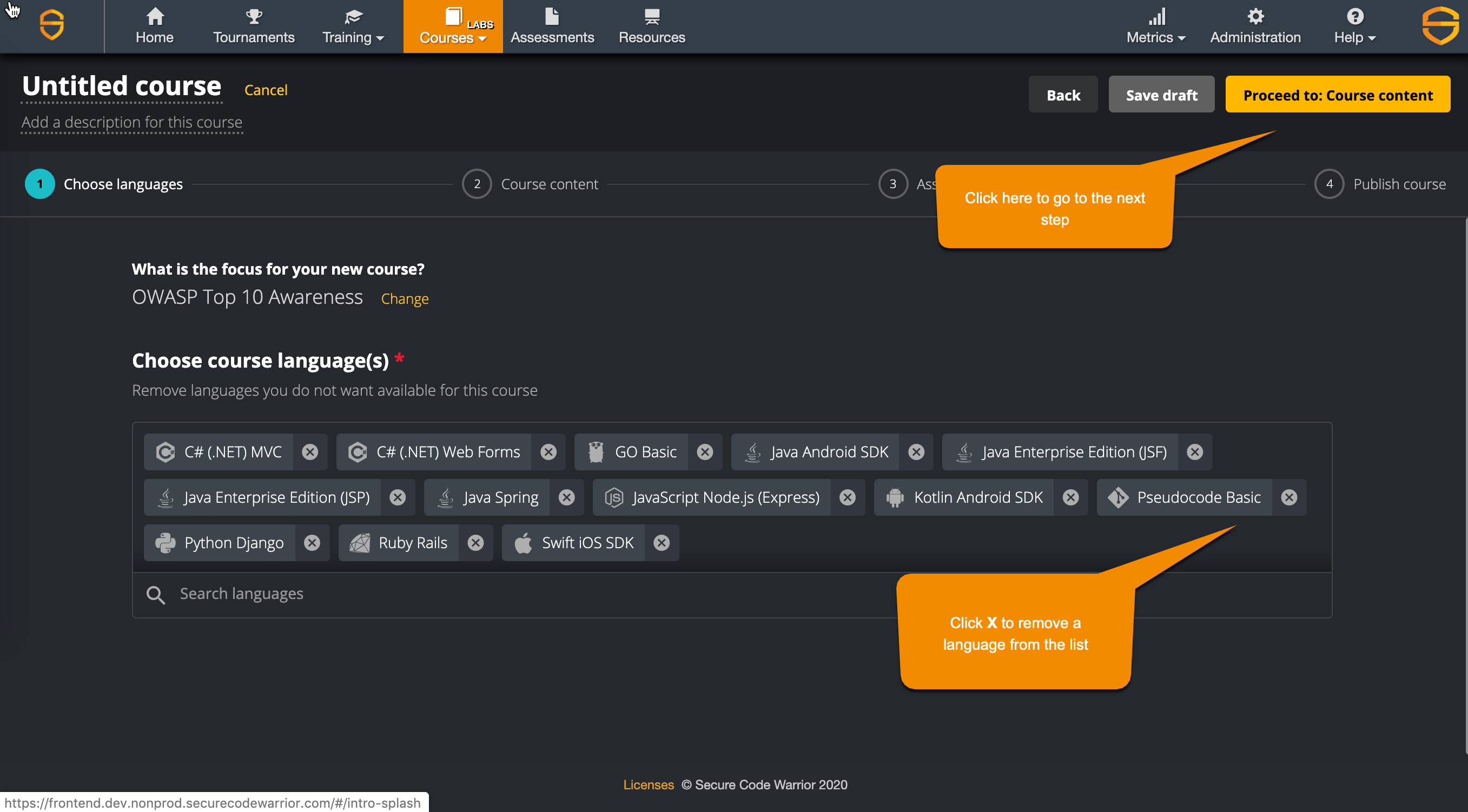 Note: If the required langauge:framework is not displayed at this point, it may not be Courses enabled. Please check here to view supported Courses languages.

If the language:framework is supported in Courses, the chosen focus vulnerabilities may not be valid for the language:framework combination.
Please return to the previous page and set your focus to Target Specific Vulnerabilities or Other before trying again.

Step 5
Select the desired language from the list on the left and review pre-configured course modules in the center panel. At this stage, you can also add additional modules if required.
Please see How to create your own course module for more details on creating and editing a custom course module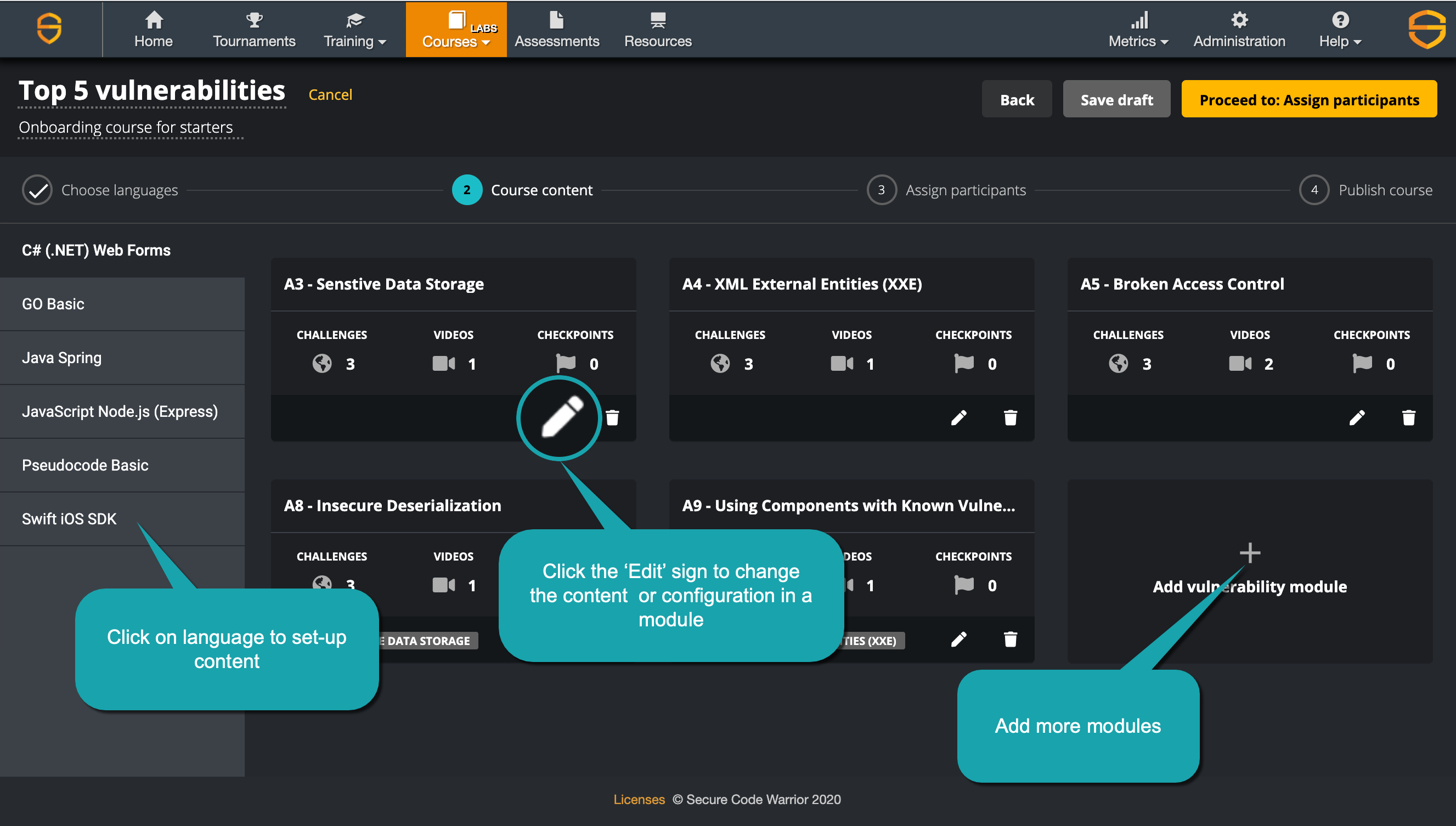 IMPORTANT: Pre-built templates are language-specific. Any template change made to one language must also be made to all other languages on the list.
Step 6
Now it's time to add the 'end of course' activity. This allows you to share either a congratulatory message with the developers once they complete the course, or share a message and lead them to complete an assessment for that course.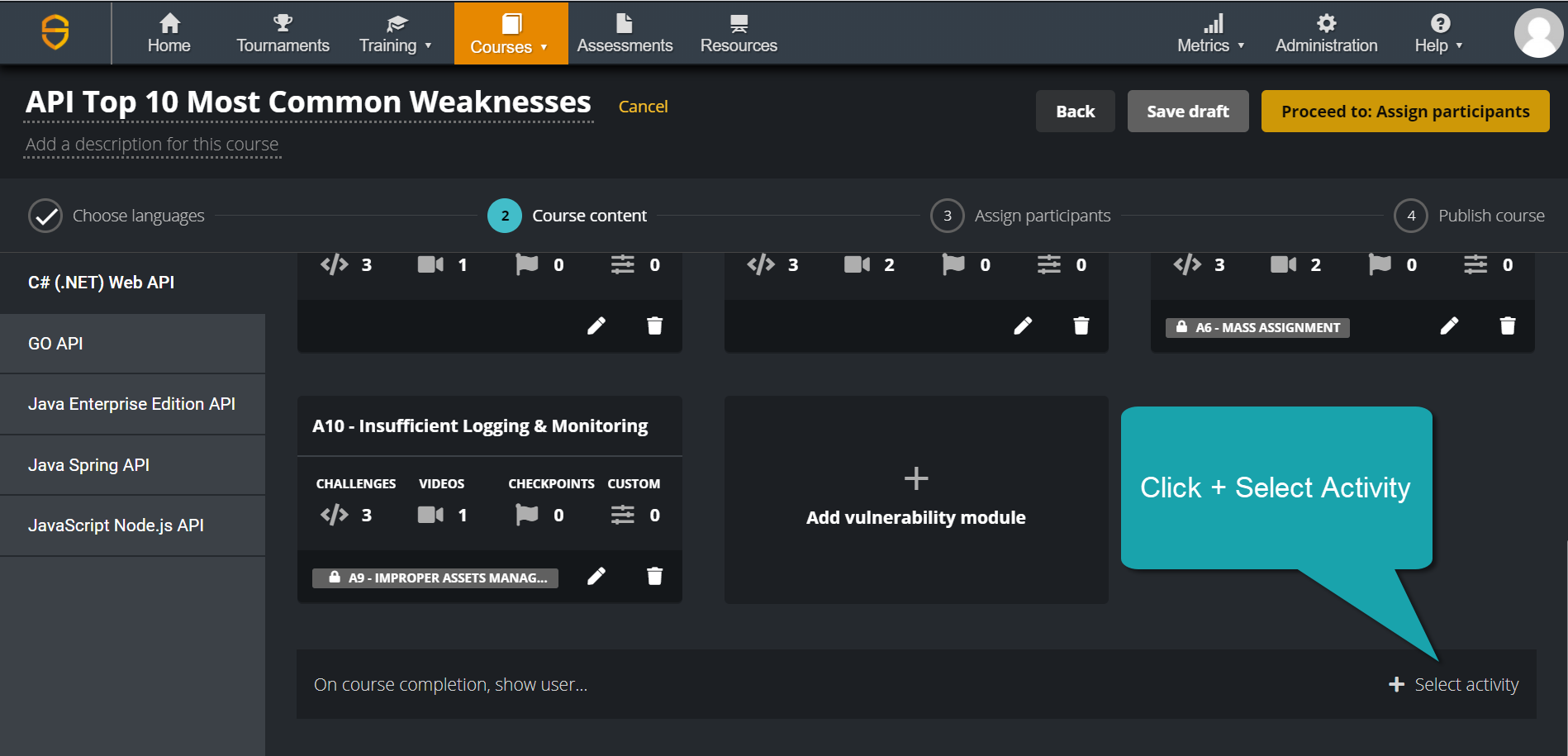 Choose Message if you'd like to send a few words of recognition to the developer once they complete the course, or choose Assessment if you'd like to share a message and a link to the relevant course assessment:





Example Message: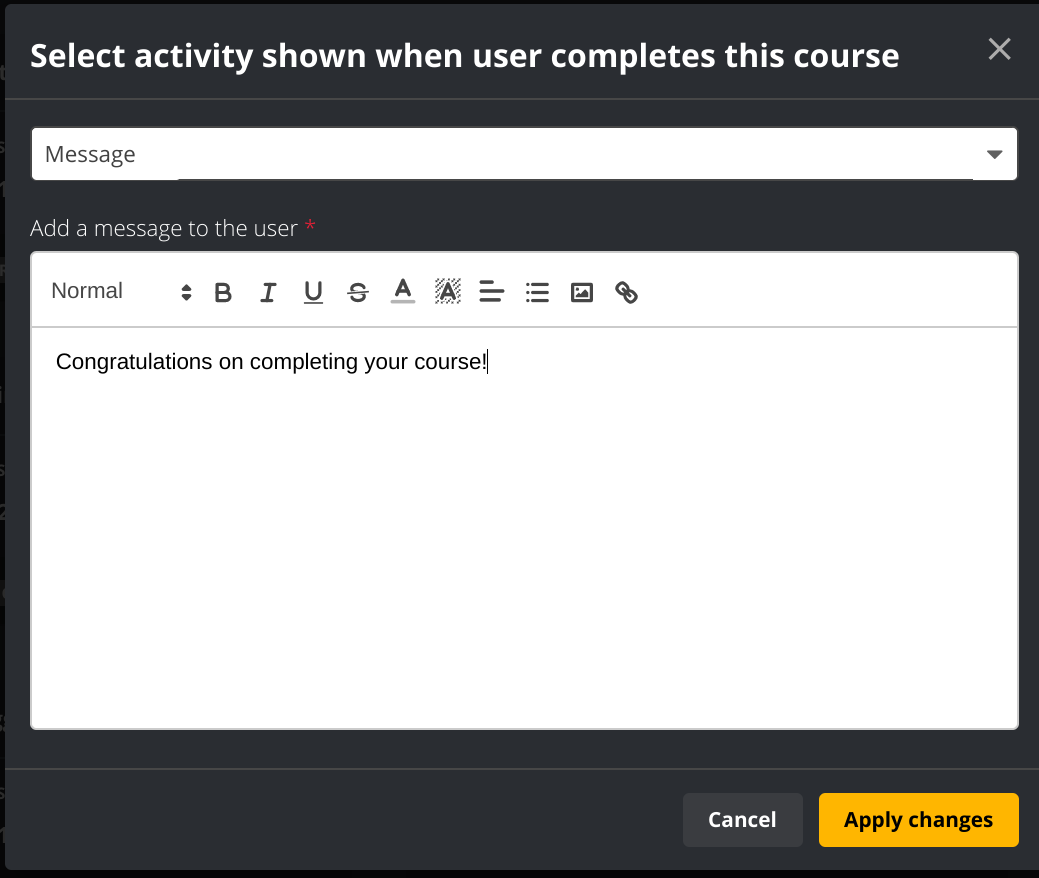 Example Assessment link: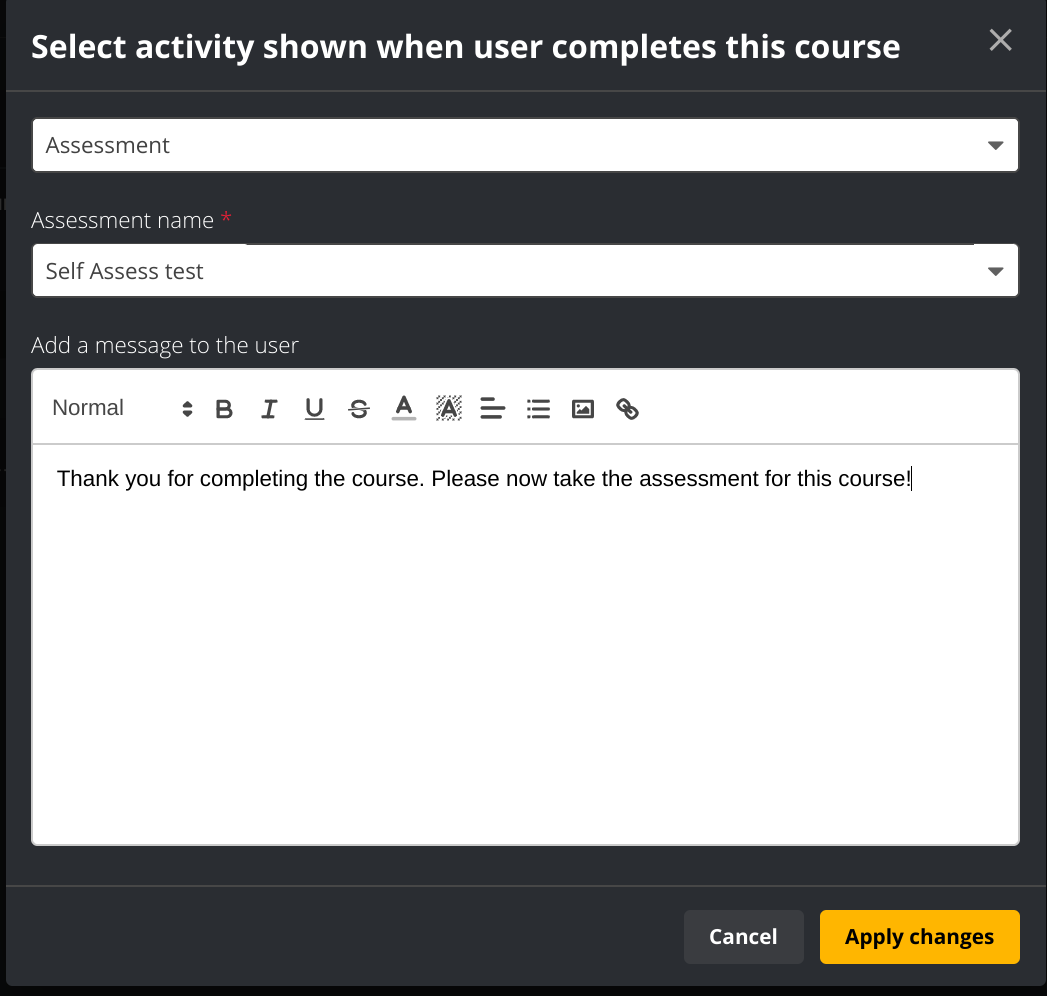 IMPORTANT NOTES:
If you choose the assessment option, one must be created beforehand so it can be selected and linked. (read more about that here.)
The assessment also needs to cover the same language(s) as the course.


What will the developers see?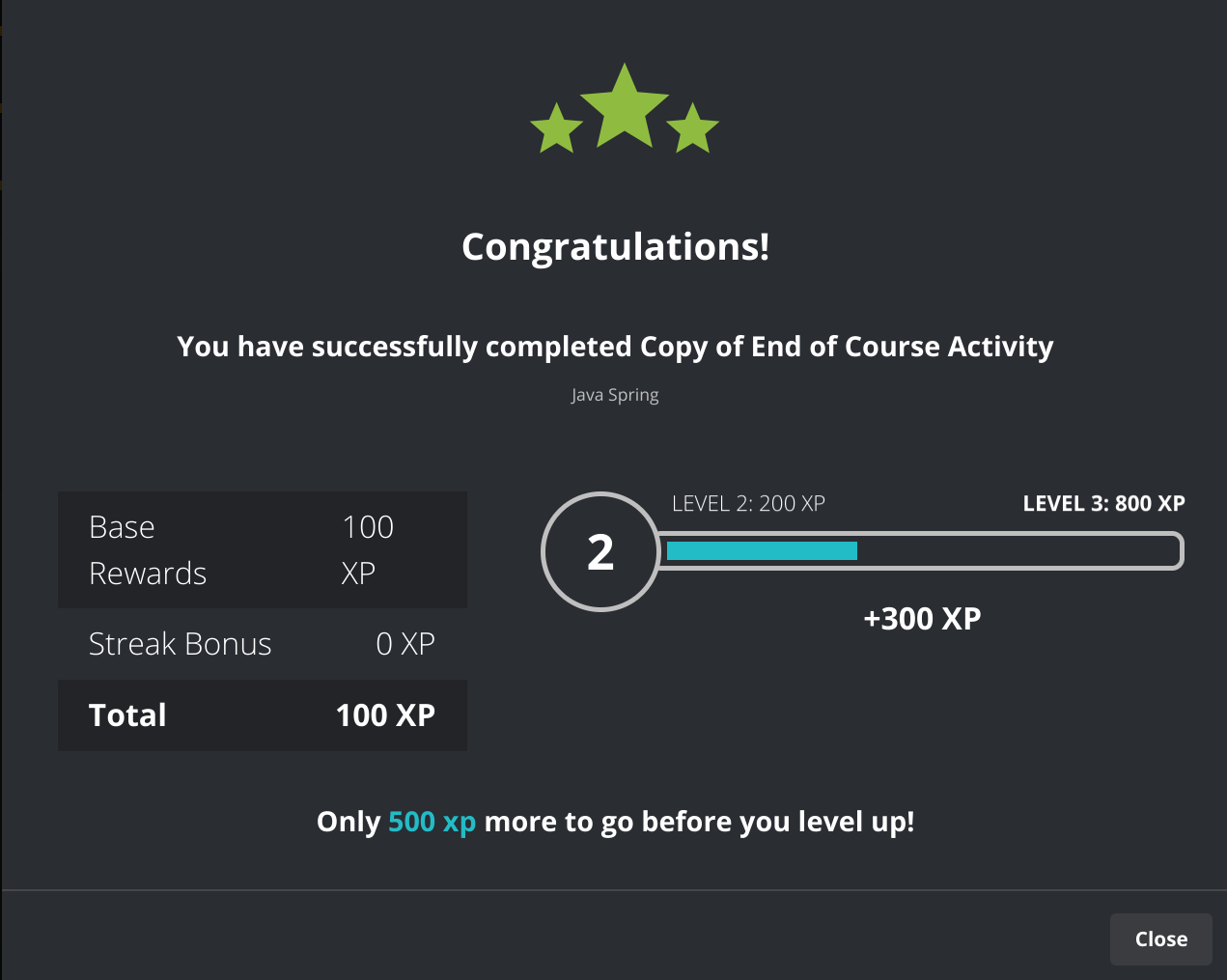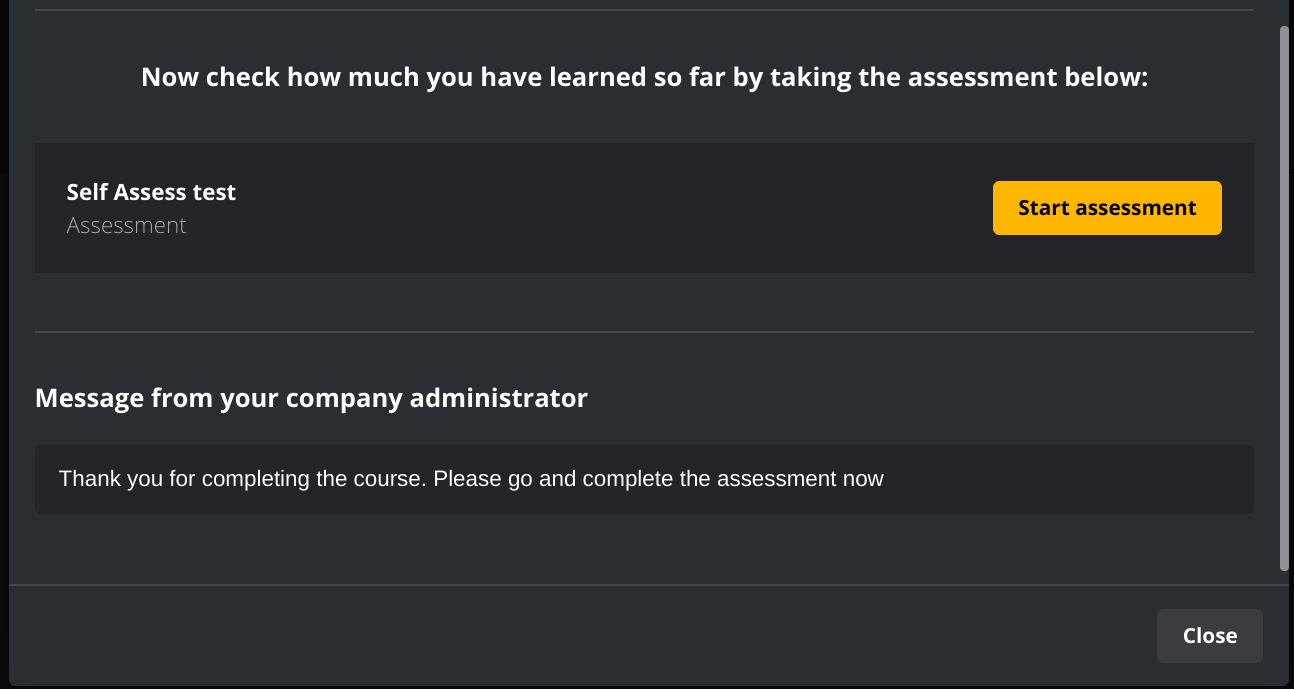 Step 7
Next, click Proceed to: Assign Participants to assign the course to individuals or teams.
Please see Assigning participants to course for more details
Note: The course will only become available to assigned participants once it's been published.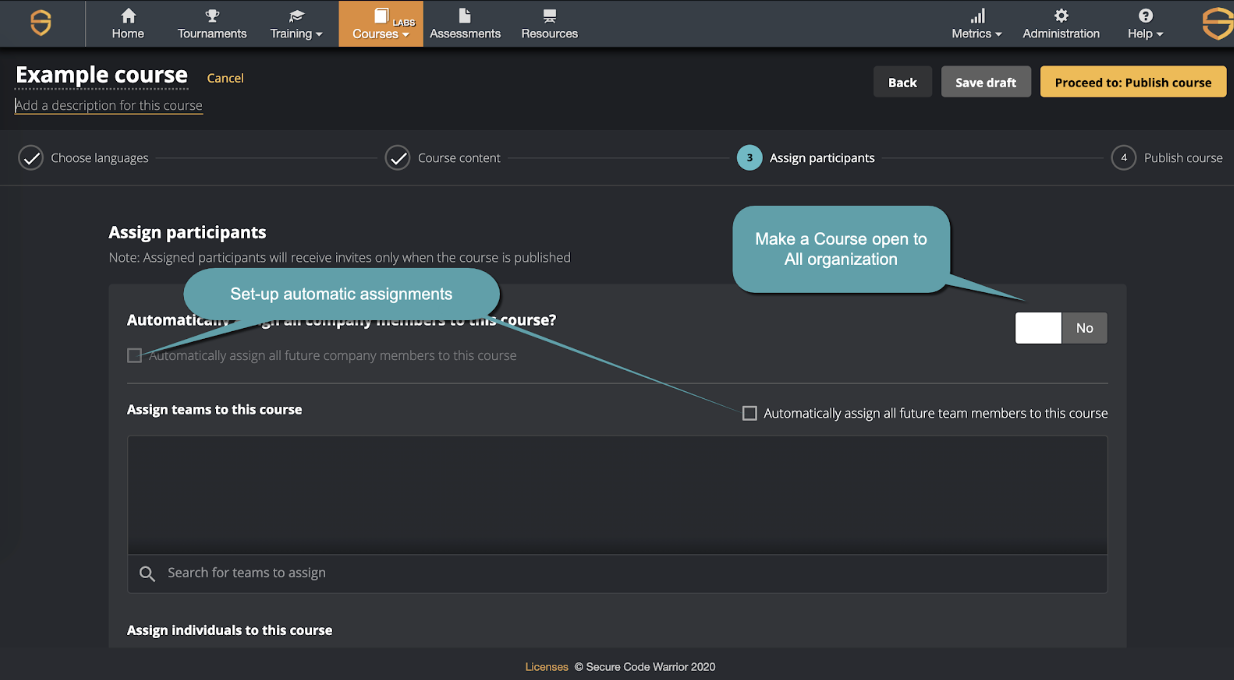 Step 8
Click Proceed to: Publish to make the course available to the assigned participants.

At this point, you'll also be asked to provide a name and description for the course. Choose naming conventions that will give participants (and yourself) a quick idea of what the course will cover.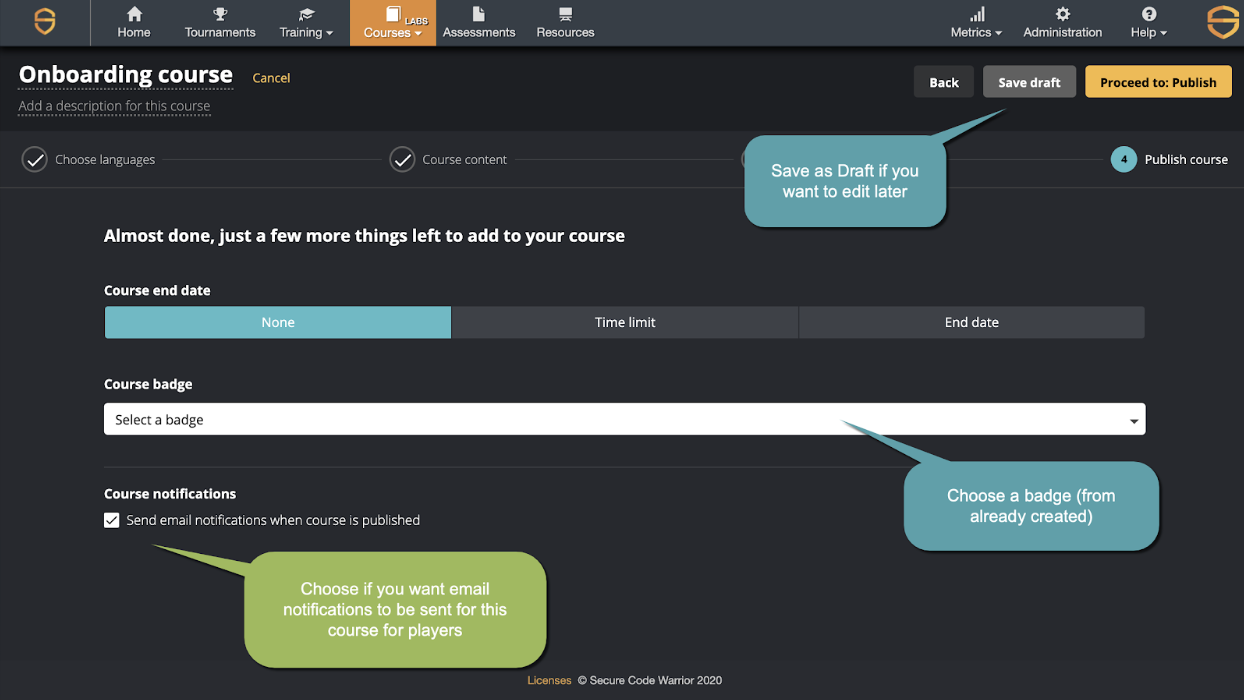 Alternatively, If you aren't ready to publish the course, you can always save your progress by clicking 'Save as Draft' and get back to it at a later date.
Next Steps
Best Practice Guide to Setting Up the Structure for Your Course.