Secure Code Warrior®'s goal with Courses is to make it easier and more efficient for company admins and team managers to build and manage them.

To accomplish this, we've introduced a new feature that allows administrators and team managers to edit published courses eliminating the need to clone courses in order to make changes.



The article below describes the steps a Company Administrator or Team Manager can take to edit a course as well as all available editing options.

How to edit a course
Follow the steps below to edit a published course

Step 1

Open Courses from the top menu and select Course Management then select the title of the Course you wish to edit

Tip: Archived courses must be Restored before they can be edited. For more information see "How to Archive a Course".
Step 2
Make changes to the course content or other properties. Changes that can be made:
Show/hide the welcome message
Add language(s)
Remove language(s)
Add content
Remove content
Edit existing content
Show/Hide the end-of-course message
End-of-course assessment(s)
End date (remove end date/timelimit, update existing end date/timelimit)
Course Badges
Email notifications
Enable/disable LMS integration

For more information on managing course content see "How to Create a Course".


Step 3
Save or discard your changes. Depending on the current status of the course different options might be available to you to either keep or discard any changes you have made:
Exit without saving - all changes will be discarded and you will be returned to Course Management.

Save as draft - your changes will be saved and the course status set to draft.

Save as preview - your changes will be saved and the course status set to Preview so you can invited developers to test the course.

Save as new - your changes will be saved to a new course and the existing course will be left unmodified

Publish - for Draft or Preview courses your changes will be saved and the course Published so that you can begin inviting developers to complete the course.

Revert to preview - for courses that have been Published but do not yet have any enrollments, this will save your changes and return the course to Preview status for further testing.

Republish - for Published courses your changes will be applied to the published course. Any users already enrolled in the course will continue to see the version of the course they enrolled in, while new participants will be enrolled in the new version.
Note: Every time a course is saved a new version is created allowing you to view how content has been updated and restore previous course versions as required. For more information see Working with Course Versions

Control the ability to make changes to published courses
Each course has several options available which can be configured to control how the course can be edited, and what impact editing the course will have on course participants.
To view or update these options, from Course Management select the title of the Course you wish to edit, then select Other settings
Enable changes to published course content - When enabled, changes can be made to courses that have enrolled participants or participants that have completed the course. Enabling this option also enables the additional options.
Enable removal of languages - Allows the removal of languages from the course. Developers enrolled in the course for a removed language they will no longer be able to continue the course and will need to choose a different language.
Enable updates of in progress courses - Any changes to course content will be applied to developers who are currently completing the course.
Enable updates of completed courses - Any changes to course content will be applied to developers who have already completed the course. If the changes add additional content then developers who have previously completed the course will need to complete the additional activities.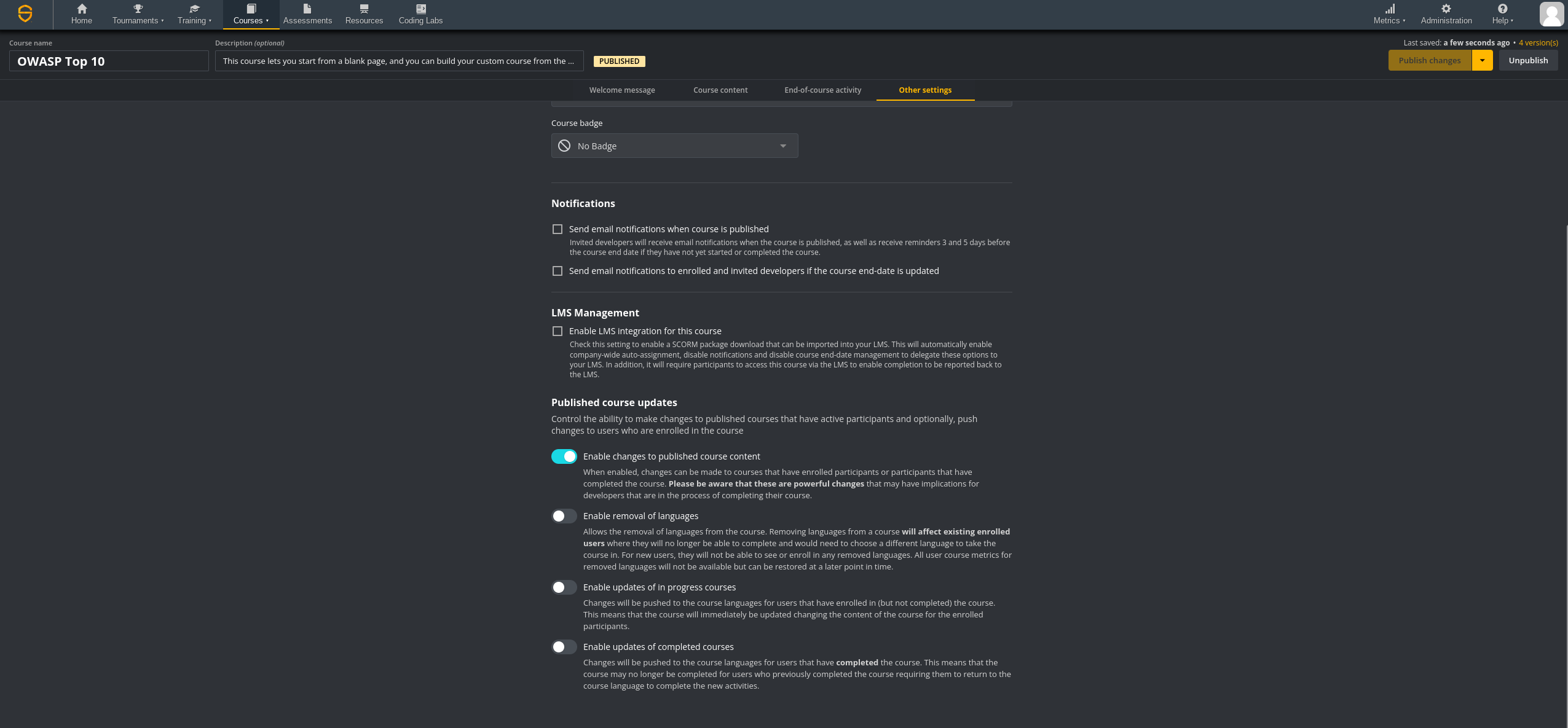 Useful Links: