As a developer, you have the ability to abandon an assessment attempt at any point in time. This allows you to save valuable time by not investing effort into an attempt that is unlikely to achieve the required passing score. Instead, you can utilize this time to learn more about the vulnerabilities covered in the assessment before starting your next attempt. 
When you abandon an assessment attempt:
All your current progress will be lost
The remaining challenges will be marked as failed 
You will lose an assessment attempt. There will be another opportunity to retake it later on if you have retries left.
IMPORTANT: Before you abandon an attempt, ensure that retries are allowed otherwise you won't be able to retake the assessment.

How to abandon an attempt?


Step 1
Click the 'Abandon Assessment' button on the top-right corner




Step 2
A message will pop up asking to confirm whether you want to abandon the assessment, click Confirm to proceed.


The confirmation message will show the number of retries left 





If there are no more retries left, you will fail the assessment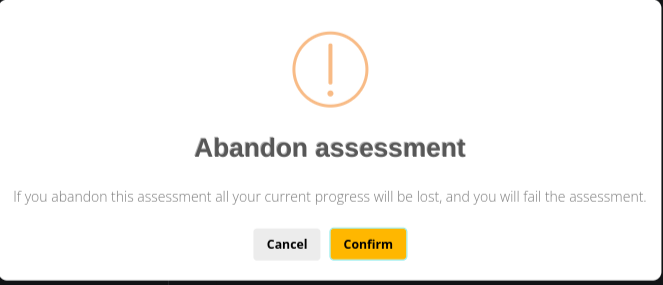 Once done, you will be directed back to the attempt result screen 
Related Links: