Sometimes, developers might be added to courses by mistake; as a Company administrator, you can remove users from courses so that only relevant participants have access to the course with the ability to reassign them to the course whenever needed.
Step 1
Navigate to Courses from the top menu then select Courses Management and find the course you would like to remove users from

Step 2
Click manage participants button then select the Current Participants tab to view all users who are currently assigned to the course

Step 3
Select the user(s) you would like to remove.
Tip: You can leverage the existing filters to narrow down your search and find the users faster.

The 'current participants' tab shows all users who have been invited to the course including disabled users. Disabled users have the 🚫 icon next to them


Step 4
Click the Remove Participants button on the top right corner. A message will pop up to confirm that you want to remove all selected users. Click Remove to proceed.





Things to note:
Users who have completed the course can't be removed.
Removed users will still maintain their progress within the course but won't appear in any of the reports.
Removed users will be excluded from future auto-assignments but can be reinvited to the course via the 'assign participants' tab
If the user had already been invited to the end-of-course assessment either by enrolling in or completing the Course, the invite to the Assessment is still valid even after removing the user from the course.
Note: Tick the "Notify user(s) that they've been removed from this course" checkbox to let users know they have been removed.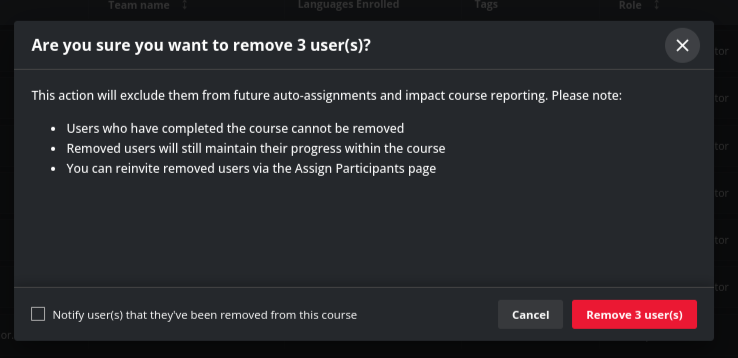 Q1) What is the impact on users who have already started the course?
Removed users will still be able to access the course and check their progress but won't be able to resume the course. The course will also be labeled as 'withdrawn by Admin".



Q2) Is it possible to check if a user has been removed previously before reinviting them?
Yes. There is a column named "Removed" under the Assign Participants tab, if the value is 'Yes' then this user has been removed previously.
Q3) How to reinvite a user who has been removed previously?
While removed users will be excluded from all future auto-assignments you still can reinvite them via the 'Assign participants' tab.
Navigate to the manage participants page and select the 'Assign participants' tab
Select the user you want to reinvite
Click the Assign participants button

Related Links: