A big aspect that helps make the most of your Secure Code Warrior® training program is using carefully planned communications at key points and sent from key individuals.
This article is an overview of why communications matter and some suggestions to get you started.

The video will take you through many of the basics, but for more examples and suggestions, keep reading the article below.



Keeping your teams informed on goals and expectations can make a huge difference in how they engage with their training program. It also creates some additional transparency around the 'what' and 'why' your organization is going down this path.
Many organizations have success using a 'top-down' approach to communications, with executive and leadership messaging helping convey the importance of the security program and their appreciation of developer participation.
Another benefit of using executive-level communications is that it lets developers know it's okay, and even encouraged, to set aside time for training.
Hot Tip: If you're unsure how to get started, we've got a communications breakdown article that includes some samples you can use. Find it here!
Getting Started
While it may be tempting to do ad-hoc communications whenever you have the time, it's important to give yourself a buffer.
You can do this by building out a communications plan ahead of time that details things like
The channels you'll use

Key messages you want to convey

Who will send these messages

How often communications will be sent
During this time, it's a good idea to consider creating a quick summary of the reasons you might want to send communications out.
This can range from
Announcement of a new training program

Introduction to the Secure Code Warrior platform

Tournament, Courses, or Assessment announcements

Reminders for events or upcoming completion dates for mandatory actions

Training and organizational security goal updates

"What's in it for developers?"

Rewards and recognition of regular participants

Feedback on the training program
Once you have this information, you can plan a basic structure that can save a lot of time and help keep track of what's been sent and what's coming up. Having an overview also allows you to ensure you're not over-communicating.
HOT TIP: Too many communications too frequently may cause teams to disengage and may even lead to them missing key information. It's important to find the right balance and being able to see your plan from a 'birds-eye-view' can help you do just that. (see example below)
Getting the Word Out
Ultimately, the methods of communication will vary depending on how big your team or organization is, and what kind of communications they prefer or respond best to. It's worth asking your developers how they'd like to receive information about the training program. Simple, right?
We've seen great results using the following methods
Slack/Microsoft Teams

Confluence

E-mail

Company intranet

Regular team meetings

Internal newsletters
Some or all of these can be used in conjunction, but a tailored approach shows that you appreciate and understand the ways your developers have time to interact with your communications.
In general, it boils down to the simple need for developers to feel informed and comfortable that they have all the relevant information to move forward and complete important tasks.
Communications Flow Example
Here's a basic communications flow to give you an idea of what your overview might look like, how to start, and what types of comms you might like to send out.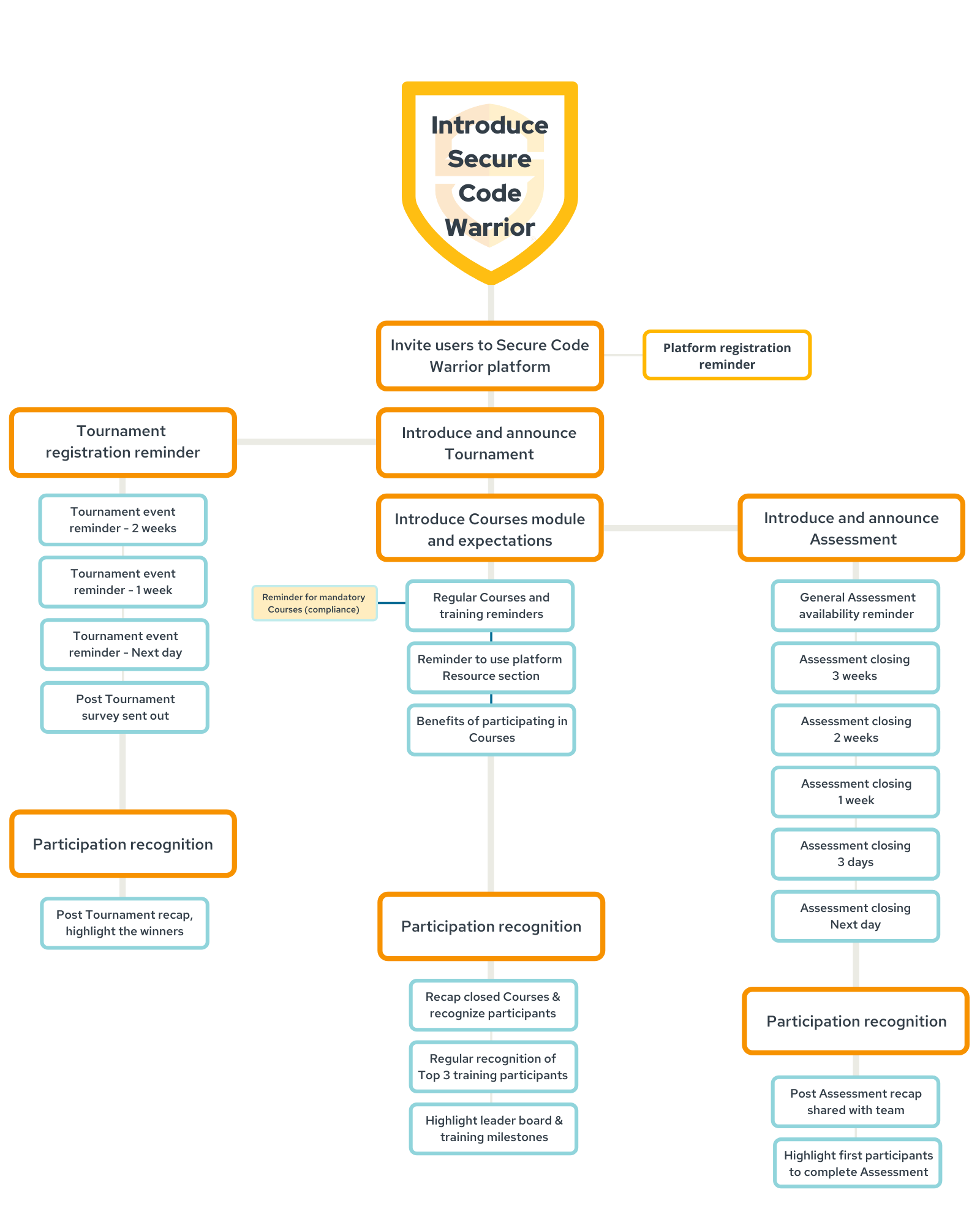 Next Steps: